Tuesday was a very important day for our Year 6 children who were confirmed by Bishop Robert Byrne. The Mass was really lovely with the children reading and singing absolutely beautifully; they also showed great reverence having been extremely well prepared to receive the Sacrament. The staff are all proud of our young people who are such a credit to their parents and their school. Thank you to all the parents who contributed so generously to the celebration afterwards and to Grace Gallis, an ex St Wulstan's pupil, for the lovely cake. So many staff and Parish members helped to make the evening go so smoothly and I would like to thank them all, but special thanks must go to Miss Hill whose work preparing and supporting the children has been exceptional. I would also like to thank Mrs Mound for her support of Year 6 and Mrs Mallison for the beautiful music. Fr Richard and Deacon John have both said how proud they were of our young people and we thank them for their support and guidance. Finally, a big thank you to Demi Lee, Kieron, Libby, Jasmine and Elisha who came to support their friends and sing in the choir and to our altar servers Thomasin and Frances.
Many parishioners approached me after the Confirmation Mass speaking so highly and warmly of our children. They are the future of our church and they bring so much to our faith. We look forward to seeing many families, Catholic and non Catholic, at our next school Mass as we celebrate our faith together.
Preparation is now underway for our Year 3 pupils who will receive the Sacraments of Reconciliation and Holy Communion this year. If your child is a baptized Catholic and you wish them to be prepared to receive the Sacraments please ensure you have contacted Fr Richard. A letter will be sent out shortly outlining the programme of parent meetings and dates. If you have any queries please contact Mrs James or myself who are leading the First Holy Communion preparation. Thank you.
On Monday 10 December, the Christmas post box will be in the main entrance for the children to post cards to their friends. Year six will do the postal delivery at lunchtime. Please ensure your child writes the full name and class on their envelopes to make our delivery system the envy of the Royal Mail!
The Reception and KS1 Nativity play will be performed on Tuesday 11 December at 2.30 pm and again at 6.30pm. The performances will last approximately 30 minutes. Many thanks for the lovely costumes that have already been sent in. Could the children please return to school at 6.00pm on the evening of the 11 December for the performance to start at 6.30pm.
The KS2 Advent Service will take place on Wednesday 12 December at 6.30pm at St Wulstan's Church. The children will need to wear full winter uniform and be dropped off at the church community centre between 6.00 and 6.10 pm. The staff will then take responsibility for the children so that you can take your place in the church. On Monday 10 December Years 3,4,5 and 6 will walk down to church to practice. We will return to school for the end of the school day at 3.30pm.
On Friday next week, 14 December, we have 'Christmas Jumper Day'. We don't wish anyone to go to the expense of buying a special jumper and if your child doesn't already have one any jumper can be customized with a bit of imagination and a bit of tinsel. The children will still need to wear their school skirts or trousers with the jumper just replacing their school jumper. We would like this to be a charitable event to support those less fortunate than ourselves. St Wulstan's Parish support the local food bank and we ask for a dried food or tinned donation. We hope this will allow all of us to reflect on the true meaning of Christmas. Apparently the foods in short supply are: tinned goods, for example, rice puddings, custard, fruit, corned beef, ham, spam, spaghetti, macaroni cheese, potatoes, peas, carrots, sweetcorn. Other items: long grain rice, jam, squash (dilute), small jars of coffee, curry and pasta sauces, milk, shampoo, deodorant, razors, shaving soap, washing powder, toilet rolls, tin openers. Many thanks for your support.
Thursday 20 December is our Christmas Party Day- a major highlight in the life of St Wulstan's children (and staff!) Children come in their party clothes and an exciting day of festivities ends with a visit from a very special person! Please remember lunch is sausage and chips all provided by school so your child will not require a packed lunch hot meal order on that day.
Could I end today by asking yet again to please park with consideration to our neighbours. Please ensure you leave ample room for local residents to access their driveways. Similarly please do not park on pavements or corners which endangers children and parents lives as they walk to school. Thank you again to the vast majority of parents who do park considerately and safely.
Wishing you a lovely weekend
Practising actions for our recessional hymn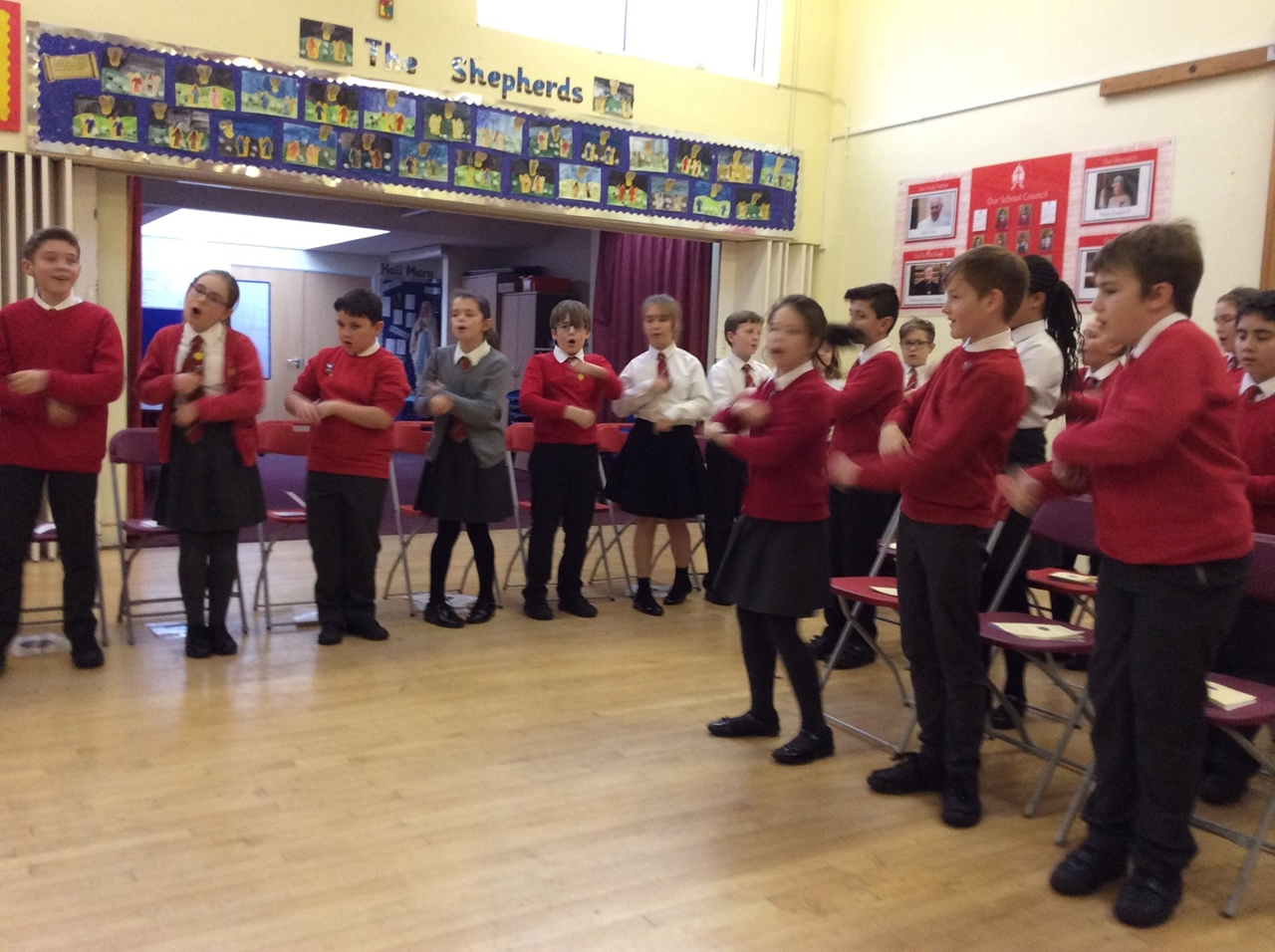 Waiting with great excitement for our Confirmation Mass to begin