As ever it has been a very busy week at school. In KS2, Year 5 have been raising the rafters with their singing in preparation for next week's concert; football and netball practice is well underway for CTA sports competitions; Year 1 have shared a beautiful Mass together with their parents, families and parishioners; Year 3 are preparing for their first Reconciliation and First Holy Communion Programme and Year 6 have been learning are focused on their SATs preparation showing great maturity and positive determination to do their very best. KS1 have been just as busy with fabulous phonic and writing work, showing great progress just in the few weeks since Christmas. I am sure they will look forward to everyone seeing their work at Parents' Evening.
Parents' Evening dates have been set for Wednesday 27 February and Thursday 28 February. Please sign up for your appointment via the School life app. If you have any problems please contact the school office to assist with your password but cannot book appointment times for you. Please also see the calendar tab on our website for further important dates this term.
The long awaited and much prepared for 'Disco Fever' Pyramid Concert has finally arrived! We look forward to a lovely day and evening with Year 5, starting with afternoon rehearsals before the evening concert. The children have worked exceptionally hard for this event under the guidance of Mr Mallinson, Mrs Freitas and Mrs Mallinson. Tickets are still available from our school office and are open to all parents, family and friends of the school. The staff are all attending and I am sure will be glowing with pride! Please contact Mrs Purcell if you would like to order tickets. We look forward to sharing the photographs and details of the day next week.
Tuesday is our half termly PTA Cake sale morning with cake donations from Year R and Year 1 parents, thank you. If your child would like a cake please send them with 30p on Tuesday morning.
Next Friday 15 February, last day of half term, we will have a 'ONESIE Day' when the children can wear a comfortable Onesie and slippers for the day in exchange for £1 donation. If your child does not have or like onesies then pyjamas can be worn but please with a dressing gown too. Your £1 donation will go directly towards supporting the purchase of replacement reading books. Many books are damaged over time and we need to maintain a continuous programme of replacement which is very expensive. All donations towards this are gratefully received.
As we mentioned last week, Tuesday was 'Safer Internet Day' and every class focused on the importance of keeping themselves safe whilst using the internet. It became apparent through the teaching and discussions that some children are accessing inappropriate sites eg adult Youtube clips and social media sites. However, even more worrying was the trusting manner in which many children across the school felt it was safe to give personal details to people with whom they played group games online. They quite innocently believe that people must always be exactly who they say they are, that is, children like themselves, with little or no understanding of the well hidden dangers. There are many websites offering guidance for parents https://www.nspcc.org.uk/preventing-abuse/keeping-children-safe/online-safety/ which you may find helpful. Thank you for your support in keeping your children safe.
Next Friday we break up for half term. It is hard to believe we will have passed the half way point of the school year. Wulstan's Lodge is now taking bookings for Holiday Club. Please contact Sally Bache at Nursery for further information or telephone 01299 829032.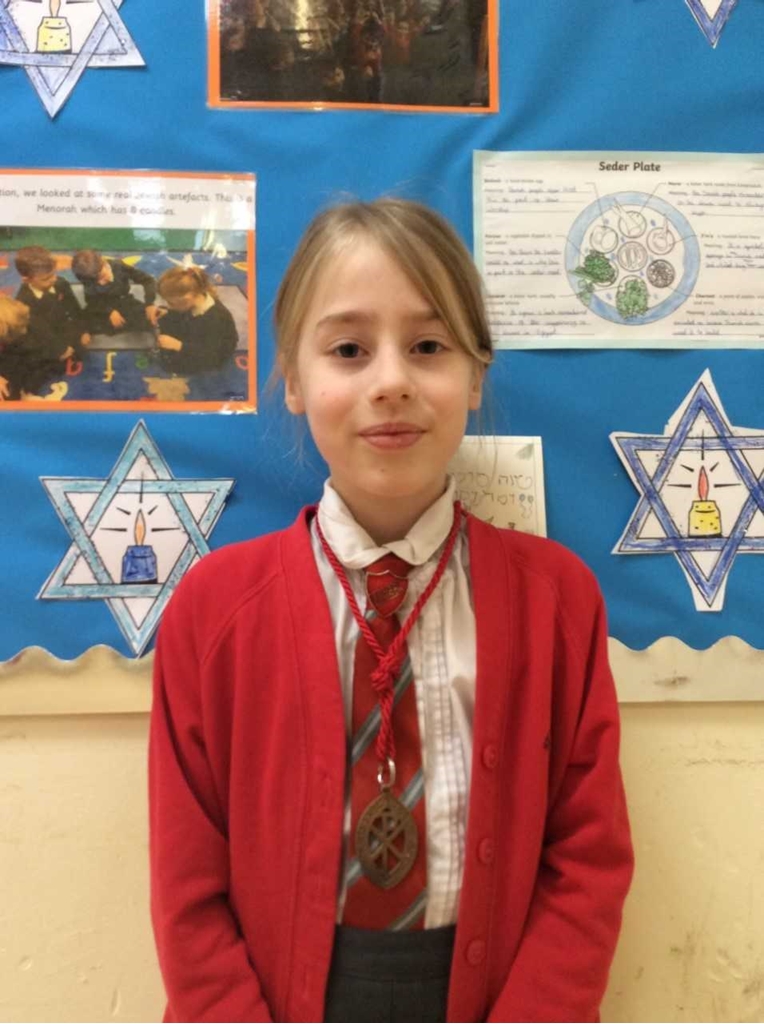 Congratulations to Thomasin for receiving the Guild of St. Stephen. You'll be contributing to the whole community participation in a more fruitful worship of God. May St. Stephen guide you as continue on your journey as an altar server. Well done Thomasin!
"I'm happy that I'm joining other members of my family by becoming an altar server. As a family we try to serve our community. I also hope to inspire others and receive my silver medal." by Thomasin
Wishing you a lovely weekend.