We began our Holy Week focus today with our Stations of the Cross service. In their Assemblies and RE lessons over the week, the children have reflected on the events of Holy Week, their reverence and solemnity is an example to us all. I am sure many of you will attend the services and Masses over the Easter Triduum, the times of which can be found on the parish websites.
We were delighted this week to receive our S48 RE Inspection report from earlier in the term. It was an extremely rigorous and thorough inspection using the new more demanding Birmingham Diocese Framework. The inspectors judged the Teaching and Learning of RE as 'Outstanding', with Collective Worship and Catholic Life as securely 'Good' with two areas judged again as 'Outstanding'. The overall judgement was 'Good'. Recommendations, as you will read, were already recognized by school and will continue to be addressed. A copy of the S48 report can be found on the school website under the 'Key information' tab and I encourage you to read it, hard copies will be available after the Easter holidays.
Earlier today, I was delighted to present members of our Year 6 class with trophies awarded for Christian Example, Service to Others and Friendship. Congratulations to Ciaran,Rhianna and Jasmine . I also read out the names of those children who had achieved 100% attendance this term and 40 children received their certificates and chocolate treat today. Well done everyone!
We were delighted to receive so many entries today for our decorated Easter egg competition. Once again the children have shown great imagination and ingenuity in their designs with some really excellent attempts. There was a prize for the best egg in each class but as ever it was so difficult to select an overall winner. Congratulations and thank you to everyone who entered.
We also had two winners of Easter eggs earlier in the week. Shires, our lunch suppliers, very generously ran a little fun event putting special stickers under two lunch trays. The lucky winners won an Easter egg each. Well done Cecilia and Joel!
The children enjoyed what has become a half termly cake sale, this week. Thank you to the parents of the children in Year 2 for donating the cakes, to everyone who bought them and to the PTA for all their hard work in organizing the sale. A tremendous total of over £40 was raised. Thank you.Everyone enjoyed a fabulous 'Go 4 It' day this week. The children spent the morning, planting, gardening, baking, creating, painting and protecting Creation. They learnt new or developed skills that we are not always able to focus on. The highlight for many children was working with children and adults with whom they don't usually spend time. The children are donating the money they raised to the parish charity, Father Sunny Trust. They know that this money goes directly to help children of a similar age in the Garo Hills. Thank you for your support.
Congratulations on the great sportsmanship demonstrated by Year 5 as they competed in the West Mercia Police Tag rugby competition this week. Although not overall winners the children competed with great enthusiasm displaying great skills and teamwork. Well done Year 5!After Easter the children are able to wear summer uniform of red checked dresses for the girls and red polo shirts with shorts or trousers for the boys. Red sandals are permitted but please do not send your child in open toe sandals. Summer uniform is not obligatory if your child prefers to carry on wearing white shirt and tie. Could I also remind you that extreme haircuts are not permissible. We are grateful to all parents who adhere to the school uniform policy thus ensuring we maintain high standards of appearance and consequently attitude and behaviour. Thank you.
The school calendar has been updated with key dates for the summer term. Please note the dates of statutory testing. It is crucial that the children are in school every day as testing dates are set by the DFE and cannot be altered. Year 2 statutory assessments are carried out through May and early June and again it is important that children attend daily to ensure they achieve to their full potential. Please also note the date and time of the KS2 summer production. Due to the number of Induction days and evenings for High school in the last few weeks of term, we will need to have both performances of the play on Monday 1 July.
As you are all so aware today is a new beginning for Mrs Purcell as she leaves St Wulstan's to enjoy a very well deserved retirement. There are no words to describe how missed she will be by the whole community but we know she will never be a stranger and will be back to visit us. The generosity shown by so many parents and grandparents was quite overwhelming and so greatly appreciated by Mrs Purcell. I would like to take this opportunity to thank Mrs Purcell personally for the tremendous support she has given to me as Principal. We have worked together for more years than either of us care to remember and she has always been a supportive and reassuring presence that comes with many years of experience, friendship and shared memories. She will be greatly missed.
We also say 'Au revoir' today to Mrs Mallison as she too begins a well earned rest as she begins her maternity leave. We wish both Mr and Mrs Mallison much happiness in the future and we look forward to meeting their new arrival.
School closes today for the Easter holiday and the staff join me in wishing you a happy and holy Easter and we look forward to welcoming your children back to school on Monday 29 April.
Our 'GO4 IT' litter pickers helping to protect God's Creation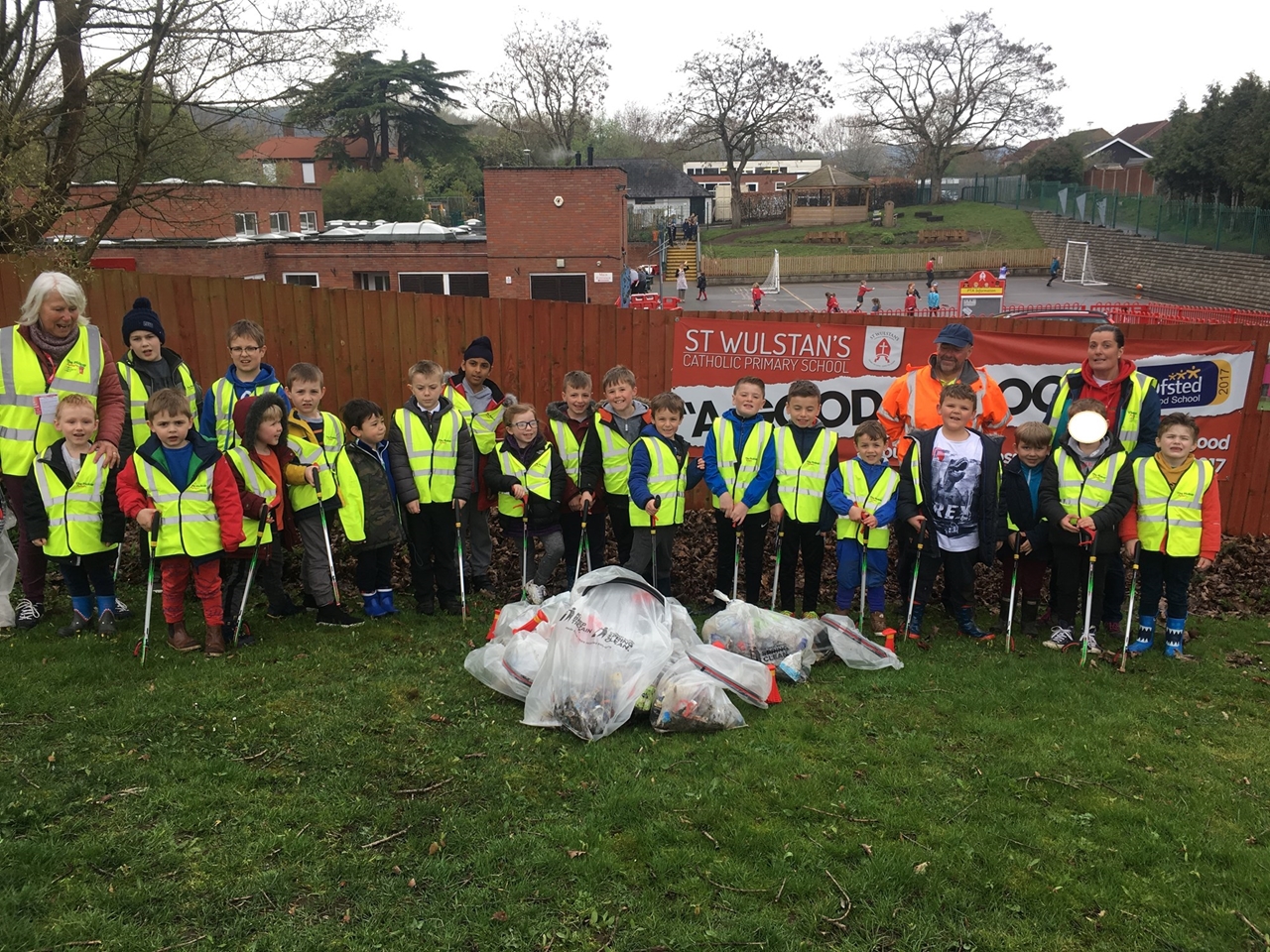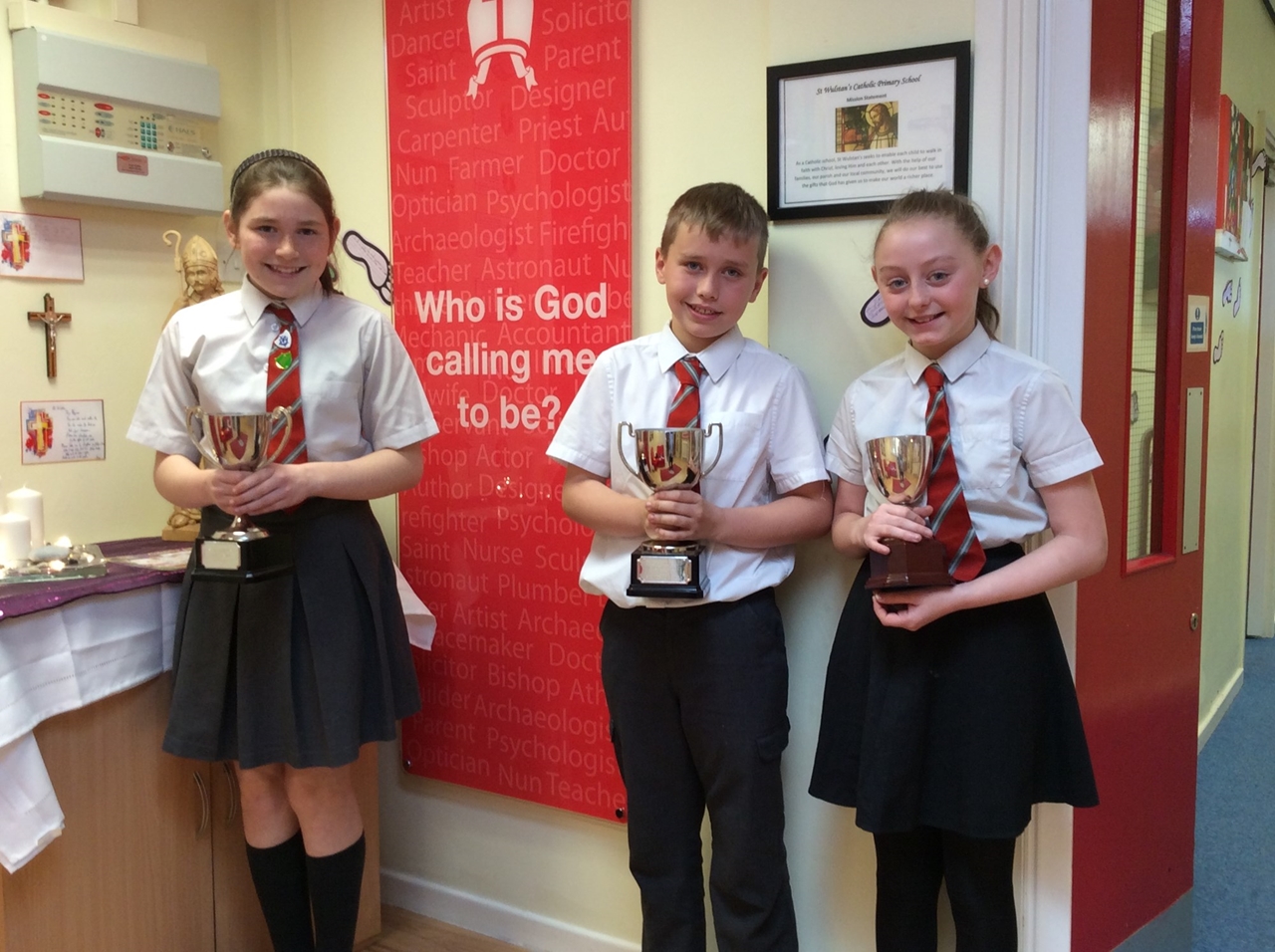 Reception Class planting in their newly decorated planters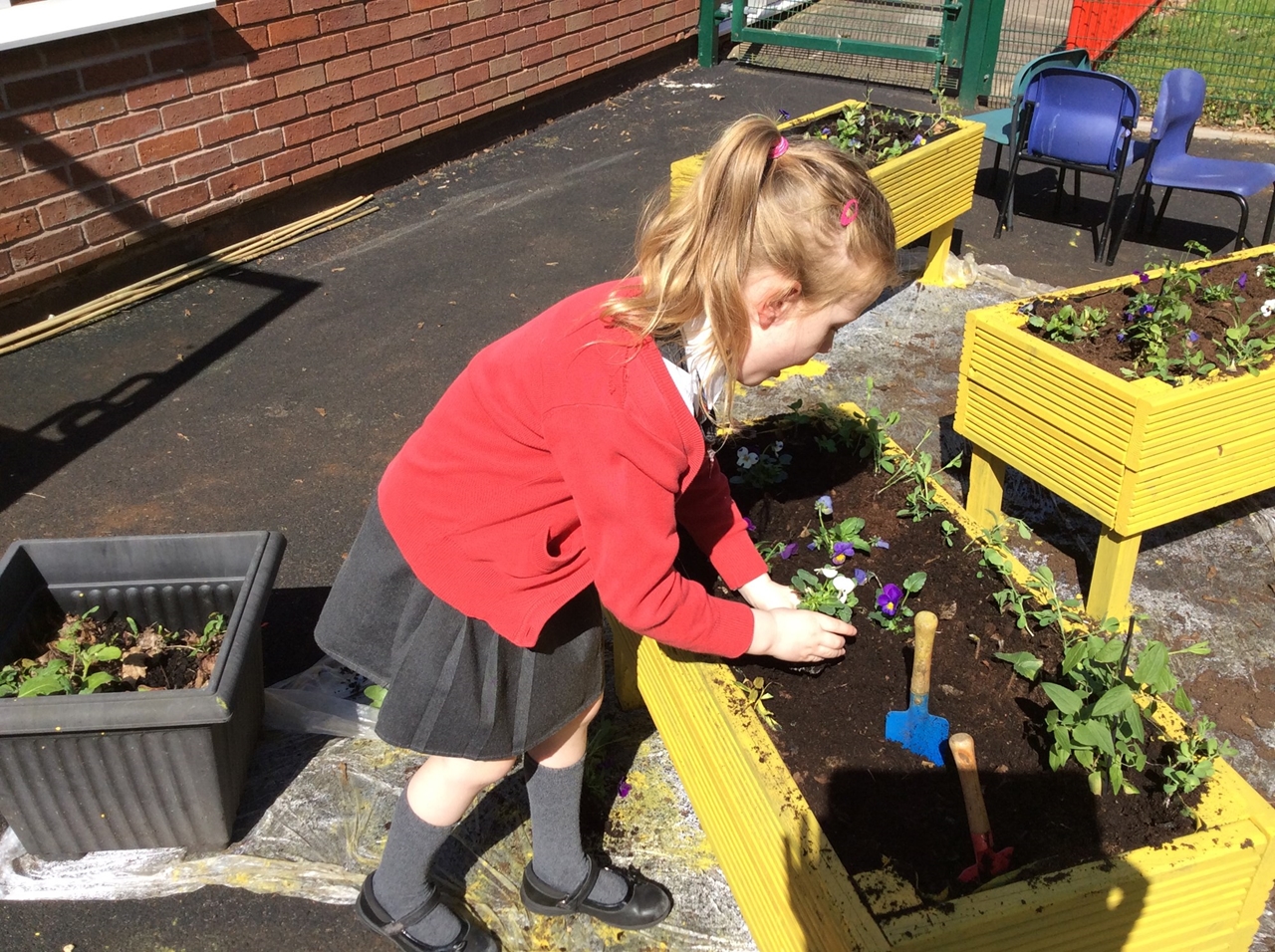 Goodbye Mrs Purcell, we will miss you x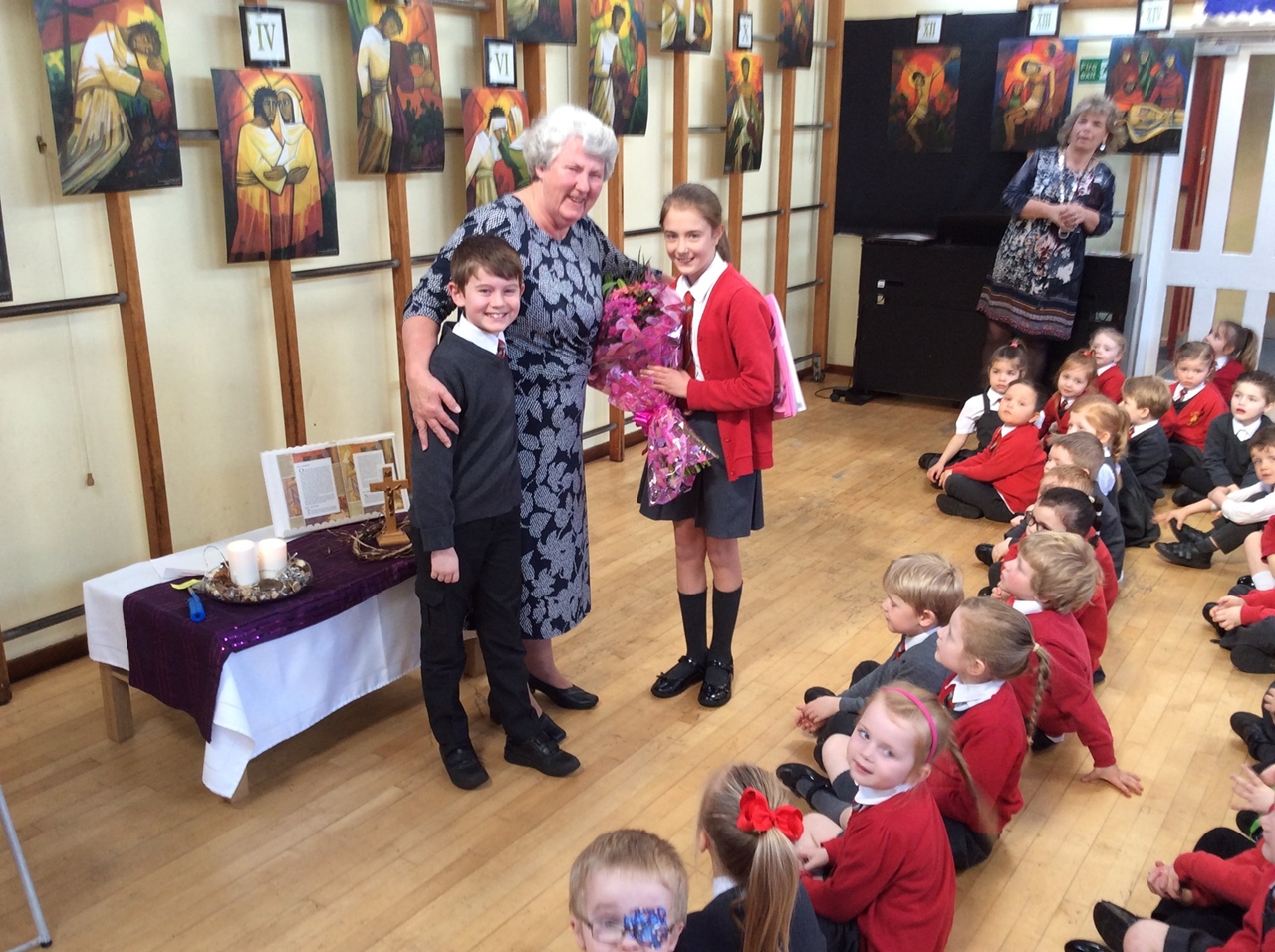 Mrs Purcell would like to share a few memories of her time at St Wulstan's
They say that time flies when you are having fun that has certainly been the case for me! Where on earth has the time gone!! It seems like only yesterday I was first introduced to St Wulstan's, but in reality my actual 'love affair' began way back in 1982 when we relocated to the Midlands from West Sussex - yes in all the snow!!
We as a family attended Mass at St Wulstan's Church on Sunday 17 January and introduced ourselves to Fr Peter McKenna, who incidentally managed to regularly include a mention of our wonderful School in his Homilies. Over the coming weeks we regularly saw Mr Kinsella, who was our first Headteacher, and his family at Mass, Mrs Redfern, who was our first Deputy Head, Mrs Goode a member of our teaching staff and of course Mrs McDonnell one of our original dinner ladies. Bit by bit, we as a family began to piece together the map of St Wulstan's Catholic Primary School. My eldest son commenced his education at St Wulstan's in 1983 followed by his brother in 1984. My eldest son was one of Mrs Savage's first pupils, who were taught in Mr Kinsella's Office!! I hasten to add not because he was naughty (oh perish the thought!!!) but because there was no 'Room at the Inn' and Mr Kinsella had his office by the Poorly Bench!
My initial role at St Wulstan's was as a t lunchtime support assistant to a pupil who had physical needs. When he left our school, I became a general lunchtime supervisor. In 1998 I was appointed to assist Mrs Pugh, our first secretary, in the school office, until her retirement in 2003.
It is so rewarding to see that so many former pupils have chosen our school for their children's education and to see that two of our former pupils are now part of our Senior Leadership Team, viz Mrs Edwards and Mrs Warnett.
I still keep in touch with our previous headteachers, viz Mr Kinsella, Mr Wilkins and Mrs Boffey, also Mrs Redfern and Mrs Pugh and other members of the teaching and non-teaching staff. I will never forget the kindness and generous support given to me at the time of my husband's illness and subsequent death, by all at St Wulstan's past and present, but that is what we excel at - because we are all part of the family of St Wulstan's.
I have enjoyed every moment of my almost 32 years of employment at St Wulstan's Catholic Primary School. Of course there have been sad times too, on learning that former pupils and parents, have sadly passed away. I have learnt many things, made many friends, and have many happy memories which will stay with me forever. I am thankful for the opportunities, given to me, the children I have met, and the friendships forged with parents and colleagues during my time at St Wulstan's.
Finally I thank you all for trusting me to take care of your most precious possessions – your lovely children. I will miss them dreadfully, but it is time now for me to take care of my own lovely grandchildren.
In the words of the Irish Blessing:
"May the road rise up to meet you. May the wind be always at your back. May the sun shine warm upon your face; the rain fall soft upon you, and until we meet again, may God hold you in the palm of His hand".