The long awaited and much prepared for 'Disco Fever' Pyramid Concert finally arrived last yesterday and it was fabulous! This year, Year 5 children from across the Hagley Pyramid of schools were celebrating 'Disco Fever' and each school showcased one popular song before all joining together to sing several disco songs as one large choir. The evening could justifiably be described as spectacular and whilst I must admit to being slightly biased, I did feel that St Wulstan's children were notable by their beautiful singing, enthusiasm, smart appearance and exemplary behaviour! I would like to congratulate all the children and thank all the families, staff and Academy Representatives who went to the Town Hall to support our children. The children have worked exceptionally hard for this event under the guidance of Mr Mallinson, Mrs Freitas, Mrs Mallinson, and Mrs Jones. This is always a lovely opportunity to celebrate together and for the children to meet children from other feeder schools who may one day become lifelong friends when they transfer to high school! Well done children - it was a night to remember for everyone!
The Pyramid concert has been running for nine years now and it was lovely to see so many past pupils still taking part, now as Hagley students, clearly wanting to be part of an event that was so memorable to them from their Year 5 days. Thank you to everyone for all the wonderful feedback which we have shared with our Year 5 stars!
Thank you to the PTA who organized a lovely Cake Sale treat for the children on Tuesday and to our Reception and Year 1 parents. Our mums all commented on how polite and appreciative the children were and how they so enjoyed the treat. A fabulous profit in excess of £50 was raised for PTA funds. Our thanks to everyone.
Thank you to all the parents, grandparents and parishioners who joined us for our Reception Class Mass this morning. It was a very reverent and prayful occasion with the children reading aloud the prayers they had written earlier in the week. When asked 'Who we pray to and why', one of our little four year olds responded, 'God because He's special'. What other job would start with such a beautiful morning! Thank you Reception Class, it was a delight to spend that time with you all.
'Onesie Day' was a great success and raised approximately £200 towards reading books. Thank you for your generous donations which was also greatly enjoyed by all the children.
After the half term break on 7 March the whole school will participate in 'World Book Day' by dressing up as book characters. This is always an exciting day in school and I am sure this year will be no exception. Your child has already brought home a letter from Mrs Tasker outlining the event as this year every class will dress up in relation to the class text they are reading this term. We hope that by giving plenty of warning it will enable you to have time to organise costumes over half term. The school Book Fair will also be in school hall that week so the children will be able to use their World Book Day voucher.The ay before we will be welcoming a theatre group to school to enhance the children's experience. These opportunities are expensive but so enjoyable so we are asking for a donation of £3.50 towards the cost. Payments can be made via Parentpay. Thank you.
Preparation for First Reconciliation and First Holy Communion is now well underway in Year 3. Dates have now been set for parents meetings and the First Reconciliation. Please check the website for the times and dates.
Many congratulations to Annabelle in Year 2 who has done so well at martial arts and was singled out as the best performer on the day at her recent grading, we are very proud of Annabelle as are all her family. Well done Annabelle!
Congratulations to our football and netball teams teams. This week the football team played a friendly match against Lickhill school as part of their preparation for the CTA football competition and on Tuesday evening our netballers played at the Dome in a training match organized by Mrs Gariff. Mr Tasker has high hopes for his squad in the upcoming CTA competition on Friday 8 March. Our netball squad will have a similar opportunity to shine on 10 March. Well done all!
Finally, a reminder that our next School Mass at church is at 10.00 am on Sunday 10 March. Mass will be celebrated by Bishop Robert who is visiting the parish that weekend. We would wish the school to be a very strong presence at this Mass to read and to sing. Further details will be sent out after half term. We encourage and welcome all families, Catholic and non Catholic to attend as part of our school and parish community.
We hope you have a lovely half term break with your children and look forward to seeing you on our return to school . Please remember the Monday is an INSET day for staff only and our children return on Tuesday 26 February.
Congratulations Annabelle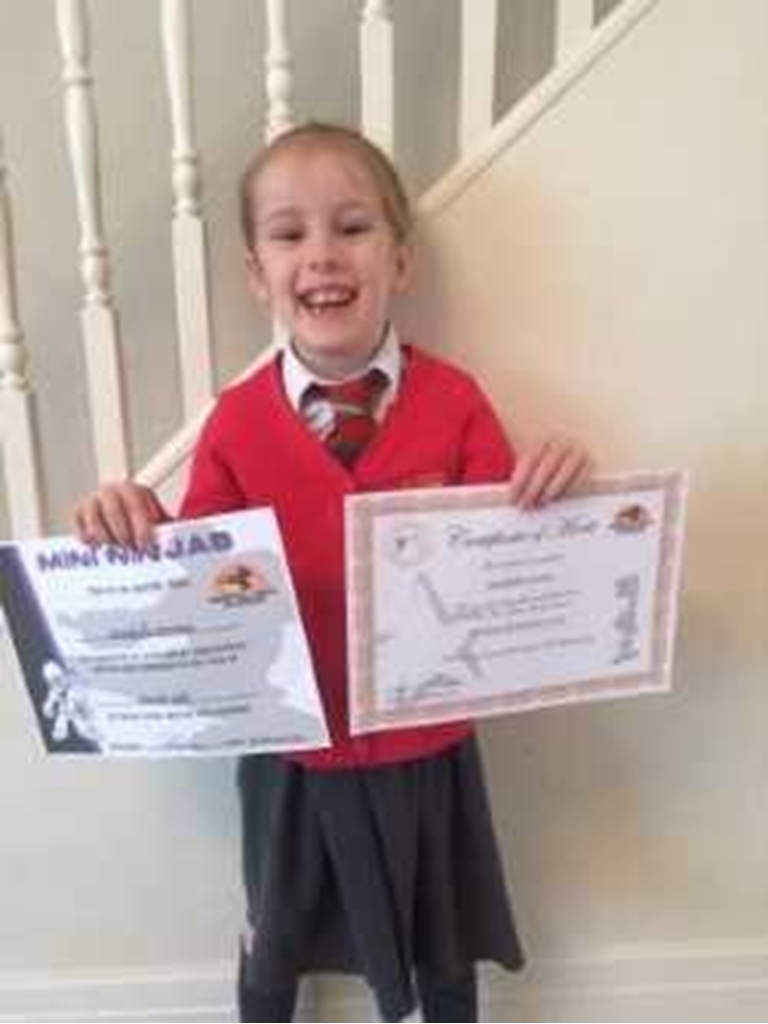 Pyramid Concert-more photographs to follow shortly on our Year 5 Class page