Dear Parents 20 September 2019
We have had another busy and fruitful week in school.On Wednesday we held our beginning of the school year retreat day and once again the amazing Dan Callow and Emily Clark led us in songs and prayers. The theme of the day was 'His Goodness Never Fails' from the much loved and known Psalm 23 and the children had the opportunity to reflect on the message of comfort and reassurance. We talked about how God, our loving Shepherd, loves and watches over us and wants us to be with Him forever. The children also took part in various activities (singing, painting, drama, learning British Sign Language) to further their understanding of this message. We had three very cute visitors too: Harley, Number Two and Fred! They brought a lot of fun to St. Wulstan's. See if you can spot them in the photos! We also had the wonderful opportunity to watch a video where our Archbishop Bernard Longley spoke about his role as a shepherd to us all as members of God's flock.Once again, the children were a credit to both the school and their families. The photographs of the children speak for themselves as to the enjoyment the children gained from the day. Well done to all!
On Monday, Year 6 will depart on their residential retreat to Alton Castle where, as well as taking part in some challenging and adventurous activities, they will have the opportunity to learn more about their faith. We hope to share some of their experiences with you next week. Accompanying our Year 6 at Alton Castle will be the Year 6 children of Our Lady of Fatima Catholic Primary School, Harborne, who are part of our Multi Academy Company, SNOMAC. This will enable our children to meet and make friends with some of the children they will be with when they all transfer to Hagley for Year 7. My gratitude to Miss Hill, Mrs Warnett, Mrs Mound and Mrs Jones for accompanying the children; enabling them to gain so much from this experience.
On Wednesday October 2 at 6.30pm we will be holding a Year 6 information evening at school. At this meeting Miss Hill will explain the aims and expectations for our Year 6 children, SATs assessment, preparation for High school, attendance etc and how through school and family we can support our children as they move onto the next stage of their lives. I am delighted to say Mr Hodgson, the new Principal of Hagley Catholic High School will join us for this meeting. Mr Hodgson will give a short presentation on Hagley Catholic High School and answer any questions you may have.
 Congratulations to the children that have been awarded their Mini Vinnie badge today. The Mini Vinnies that will be representing St. Wulstan's are: Amelie, Tearney , Luke , Harrie , Mia, Harriet Wi, Olivia B, Ryan, Molly  and Thomasin. There was a lot of interest in the position and we received more applications than there were posts. We hope that as the Mini Vinnies Team continues to develop, we will be in the position to have more children.
Hagley Catholic High School will be holding their annual Open Day on Saturday 12 October from 9.00am to 12.00pm. If you have a child in Key Stage 2, it is never too early to start thinking about High Schools. The vast majority of our children transfer to Hagley at the end of Year 6, so do take this opportunity to take a look at the school. Our Year 6 children have now received their High School transfer forms. If you have any queries regarding transfer please do not hesitate to speak to us.
Applications for St Wulstan's Reception Class 2020 must be completed online by 15 January 2020. As I have said before there can be a misconception that only Catholic children can apply to our school. We welcome applications from all families of all or no faith. If you know of any families who are presently applying for a school place please encourage them to contact me to arrange a visit and tour of the school. Again, if you have any queries regarding applying please do not hesitate to speak to us.
Next Thursday, 26 September we will be holding a 'Tea and cake' afternoon in the school hall at 2.30pm. Staff will be providing all the cakes and all monies donated will go to Macmillan's. Please come and join us in the school hall and enjoy being waited on by our Year 6 pupils! I especially welcome our new Reception Class parents as it is a lovely opportunity to sit and chat in a relaxed atmosphere. We also hope to see many of our parishioners. Please support us in this worthy cause.
On Thursday 3 October the PTA will be holding their Annual General Meeting in the Brinton Arms at 7.00pm. The PTA had a very successful year last year and worked very hard, but are very keen to listen to all new ideas and welcome all new parents whether they are new to the school or have just not been to Friends' meetings before. For those parents who are new to the school the PTA meetings are a good way to get to know other parents and to socialise whilst supporting the school. There is no pressure to take a leading role so please do come along – the more people who get involved the better!
This Sunday, 22 September, our school will be leading the singing at 10.00am Mass at St Wulstan's Church. All children and their families are invited to join the staff and we particularly warmly invite all our new children and their families.
This weekend many of our former pupils will be setting off to university having achieved great successes at 'A' level. It is hard to believe the little four year olds we welcomed into Reception class are now on the brink of training to become doctors, engineers, physiotherapists, lawyers, teachers, scientists to name but a few. We are extremely proud of them all and wish them much happiness as they take the next step in their academic careers. Please remember them in your prayers.
Unfortunately already, we have had a number of children who have lost jumpers over the last few weeks and a number of un-named jumpers in lost property. Could all parents please check that their child's jumper has a name clearly marked in it and also that they have not accidentally brought home another child's jumper. Thank you for your help with this – we have a number of parents who are understandably frustrated that their child's named clothing is missing and we really do need to reunite children with their correct clothes!
Can I take this opportunity to remind everyone to please check the school website calendar for important diary dates. All meetings for Sacramental preparation, class Masses, visitors,visits and events are on the calendar. This is regularly updated so please keep referring to it. This is the first point of contact for school events. Thank you for your support.
If you have any queries or concerns regarding your child's academic, social or emotional needs please do not hesitate to contact me or their class teacher. Many thanks for your continued support and enjoy a lovely weekend with your families.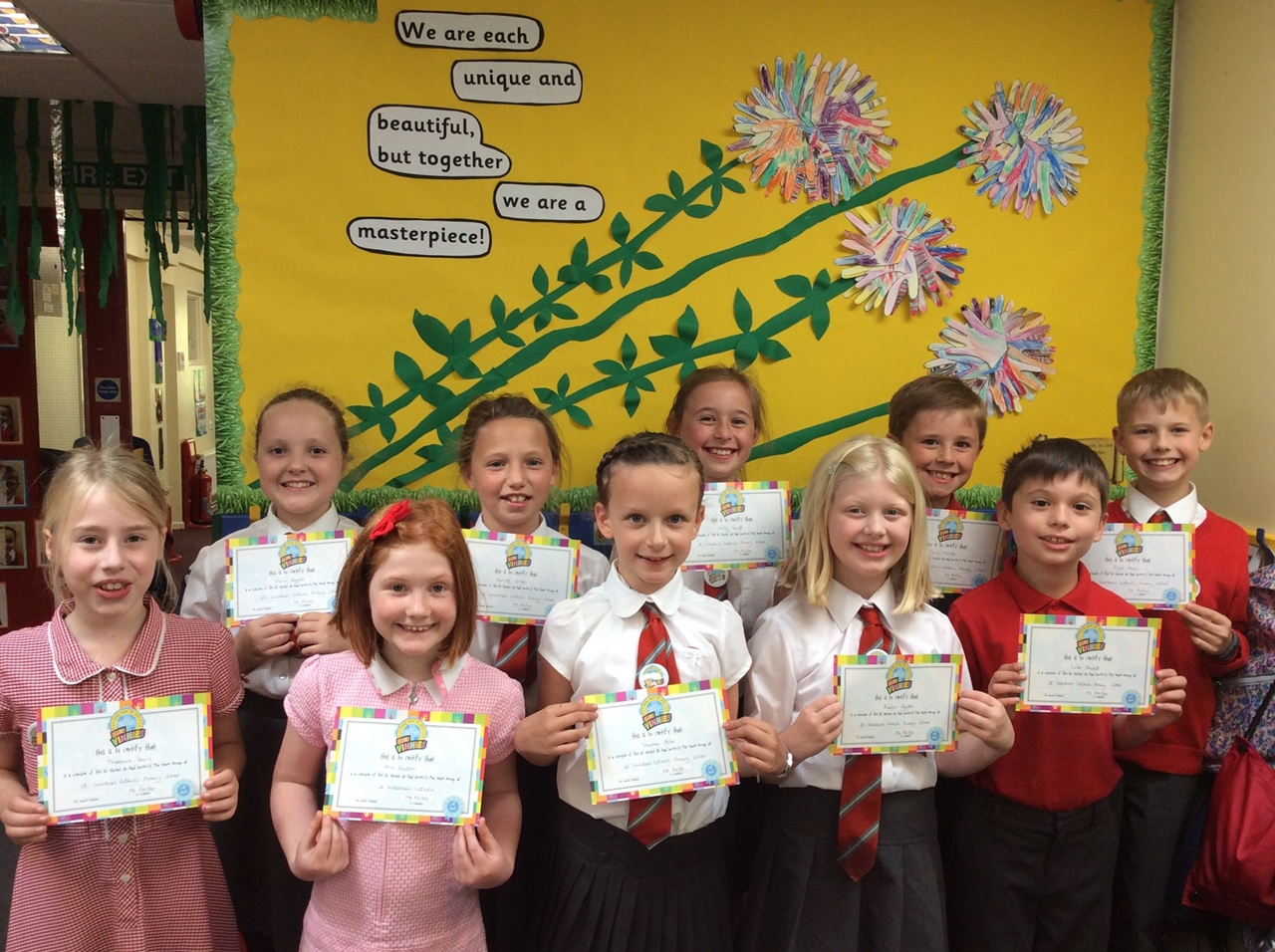 Our Retreat Day with Dan and Emily from One Life Music