Thank you for all your generous donations of jam jars and chocolate for the Christmas Fayre. These are always very popular stalls with the children. The equally popular stall (more with the adults!) is the teacher's 'Bottle Stall'. We would be grateful for donations of full bottles next week. An award of extra playtime for the class who contributes the most bottles! Thank you! I am very aware that we rely heavily on your generosity and understand Christmas is a great expense for everyone. The money you have raised is increasing rapidly and Phase 2 of the play area can be created in the not too distant future.
The PTA have already put a considerable amount of work into the Christmas Fayre next Thursday 29 November to ensure that it is a lovely family evening. If you feel you could offer help, before or during the night please contact a member of the committee or any member of staff. All help is gratefully received. The Fayre will open at 6.00pm and as well as many Christmas stalls, food and drink we will also have a varied programme of entertainment throughout the evening. Further information can be found in a PTA flyer in your child's book bag tonight.
Thank you to everyone who has donated a full shoebox for Operation Christmas Child. The boxes are being collected next Thursday 29 November so if you would still like to contribute a box we are accepting them in the school entrance until Thursday morning. Thank you.
Tuesday 4 December is a very important day for our Year 6 children who will be receiving the Sacrament of Confirmation and we look forward to welcoming Bishop Robert Byrne Please keep our children in your thoughts and prayers as they prepare for this special day in their journey of faith. Please feel you can attend this Mass even if you do not have a child in Year 6. Your support for our children would be so lovely.
Preparations have started for our KS1 Nativity and KS2 Advent Service. Please note times and dates on the school website. This is always a wonderful time of the year and we look forward to enjoying the children displaying and sharing their talents. There will be no need for tickets for either the Nativity at school or the Advent service at St Wulstan's Church and letters will be sent nearer the time regarding arrival times etc.
Many thanks to everyone who supported our Book Fair this week. It was a great success and very well supported. We do receive commission on books sold which is then used to purchase books for class and school library. Mrs Tasker is already ordering new books for the library. Thank you.
There was great excitement in school this week as the children voted for their new School Council. There were some excellent well thought out speeches which highlighted the importance of 'Pupil Voice'. Congratulations to all the children on their election success. The children's first task was to assist in the preparation of our 'Advent Wreath' which will lead our school in the 'Three King's Parade' this evening. It is hard to believe that this began life as a shopping trolley! With evergreen, lights, candles and vast amounts of imagination and enthusiasm it was transformed into a glorious work of art representing the start of the Advent season. Please come and join us to walk through Stourport and watch as the town's Christmas lights are turned on. This is a lovely traditional community event for all ages. We will be meeting at 5.30pm outside the Civic Hall carpark and would love to see you there.
On Thursday 14 February our Year 5 children will be performing at Birmingham Town Hall along with children from Hagley Catholic High School and its feeder schools. This will be the 6th annual concert at the Town Hall and they have been absolutely fantastic in previous years and this year's concert I am sure will be equally good. Ticket for this concert will soon be available and then in the new year further details will be sent out regarding a coach for parents on the evening. There is no limit to the number of tickets you can buy so please encourage family and friends to attend.
Values and Virtues for Autumn 2: Faith-filled and Hopeful
Here at St. Wulstan's we have just launched the Discipleship Award. During our weekly celebration assemblies, a child from each class is nominated to receive the Discpleship Award, celebrating their efforts in actively living the Values and Virtues.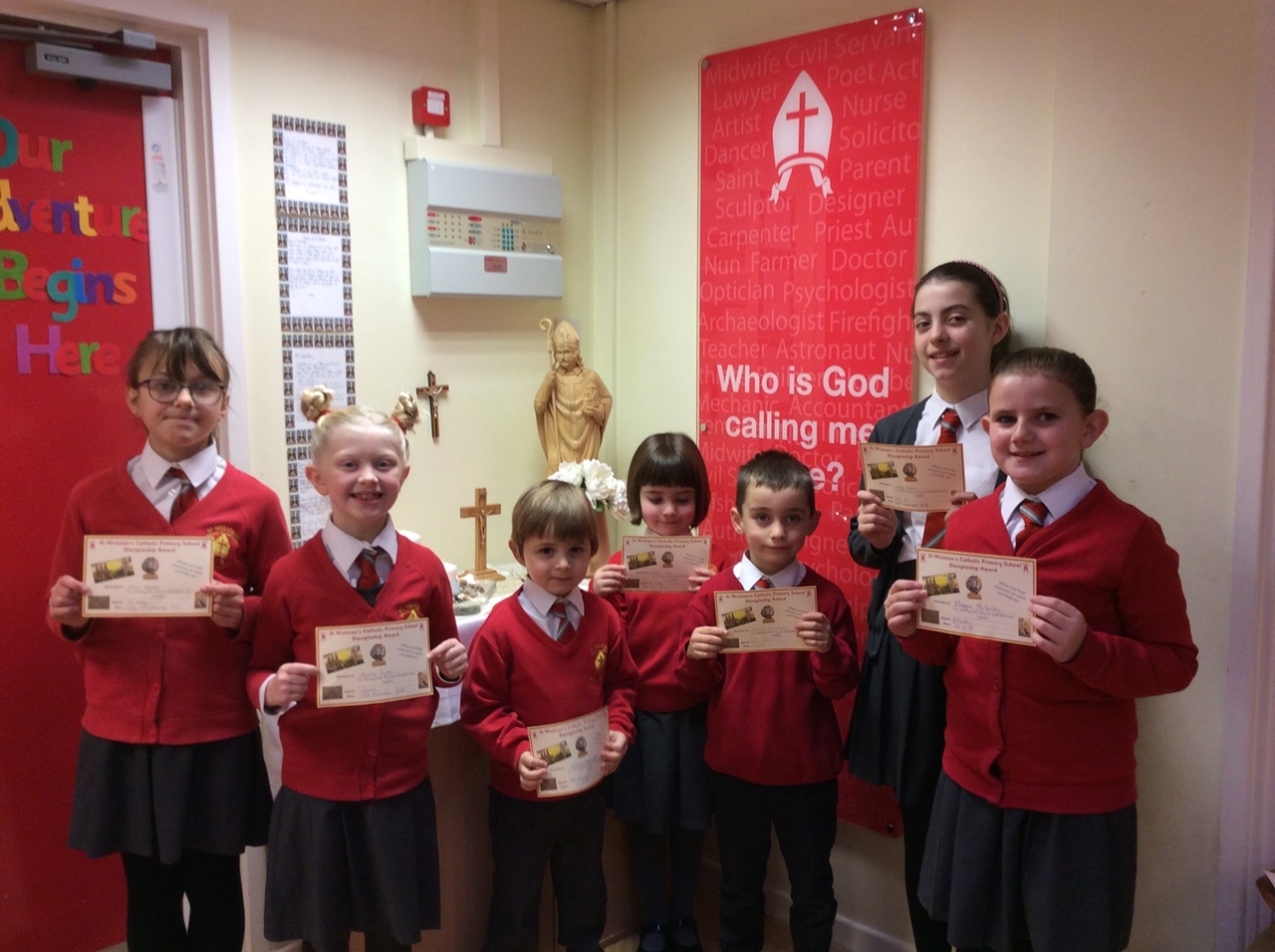 Congratulations to these children for being chosen this week!
The 'Three Kings Parade' .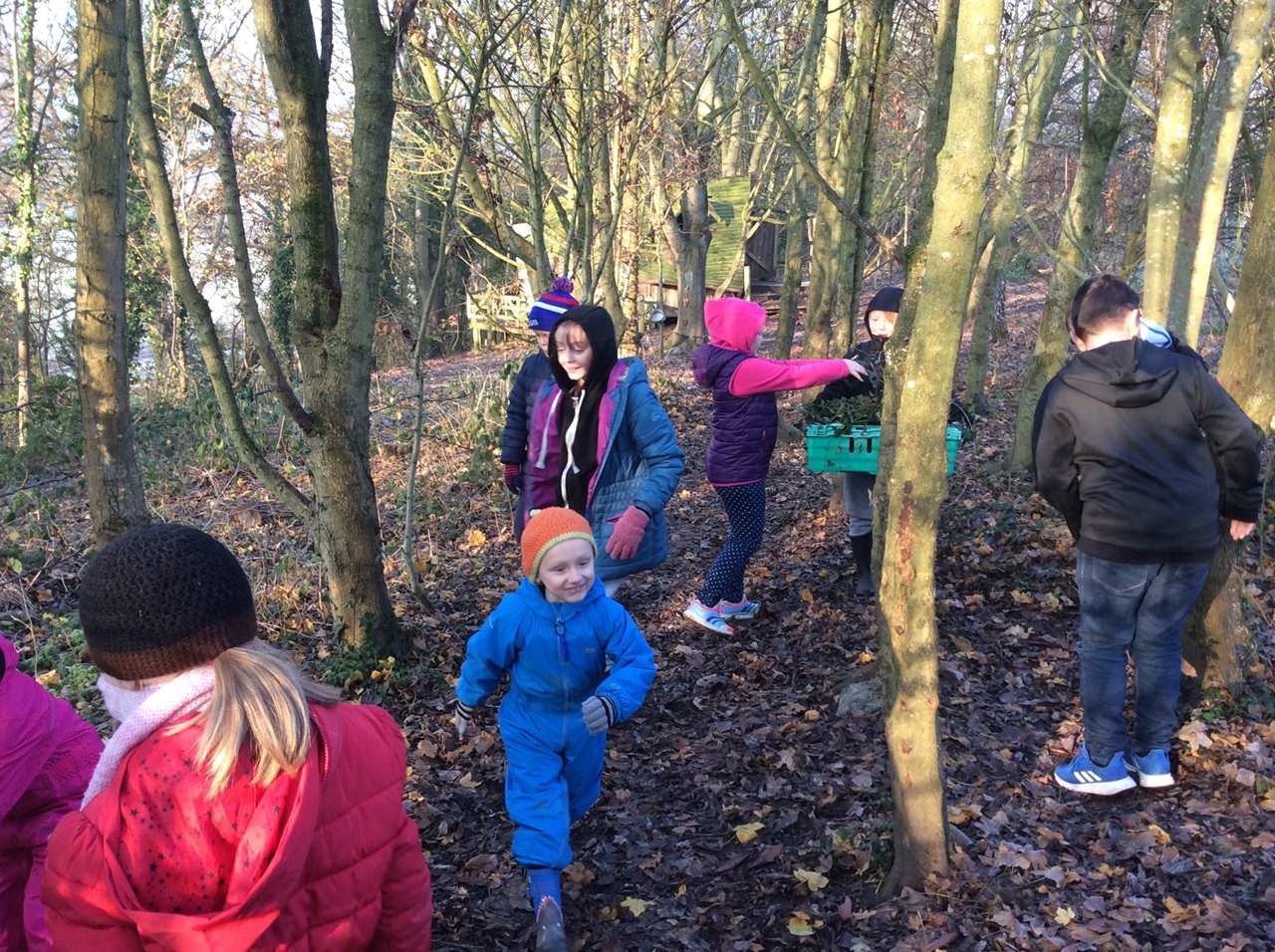 The School Council members collected the greenery from Forest school ready to decorate the 'trolley'. It was a particularly cold morning!